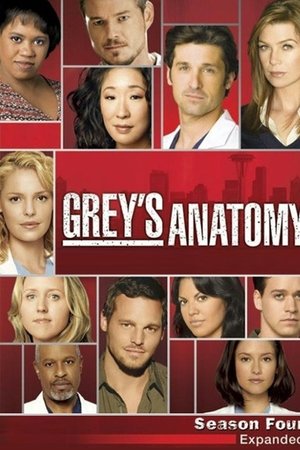 Season 4
(2007)
The fourth season of the American television medical drama Grey's Anatomy, commenced airing in the United States on September 27, 2007 and concluded on May 22, 2008. The season continues the story of a group of surgeons and their mentors in the fictional Seattle Grace Hospital, describing their professional lives and the way they affect the personal background of each character. Season four had twelve series regulars with ten of them returning from the previous season, out of which eight are part of the original cast from the first season. The season aired in the Thursday night timeslot at 9:00 EST. In addition to the regular seventeen episodes, a clip-show narrated by the editors of People recapped previous events of the show and made the transition from Grey's Anatomy to Private Practice, a spin-off focusing of Dr. Addison Montgomery and aired on September 19, 2007, before the season premiere. The season was officially released on DVD as a five-disc boxset under the title of Grey's Anatomy: Season Four – Expanded on September 9, 2008 by Buena Vista Home Entertainment. For the first time in the show's history, many cast changes occur, seeing the first departure of two main cast members. The season received mixed response from critics and fans, resulting in several awards and nominations for the cast members and the production team. Show creator Shonda Rhimes heavily contributed to the production of the season, writing five out of the seventeen episodes. The highest-rated episode was the season premiere, which was watched by 20.93 million viewers. The season was interrupted by the 2007–2008 Writers Guild of America strike, which resulted in the production of only seventeen episodes, instead of twenty-three originally planned.
---
Episodes List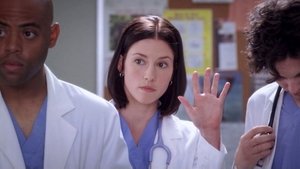 Ep.1

A Change Is Gonna Come
Air Date: 2007-09-27
Entering their first year as residents, Meredith Grey, Cristina Yang, Izzie Stevens and Alex Karev now have interns of their own to mentor. Among the new interns are George, forced to repeat his internship after failing his exams, and Lexie Grey, Meredith's half-sister. Another two new interns will be introduced in this season premiere. And they'll have their hands full when a three-car accident sends multiple casualties pouring into Seattle Grace. Some of the doctors need to deal with new stressed out interns. A young boy brings his bleeding deer to the hospital in the hope a doctor will save her.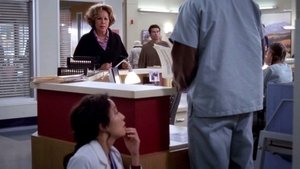 Ep.2

Love/Addiction
Air Date: 2007-10-04
A patient is in the hospital because they fell asleep in a hazardous situation. A patient's home laboratory blew up in an apartment building and the victims flood the hospital. Alex investigates the cause of the incident by talking to a really old guy who lived in the building. Jane Burke shows up to deal with what her son left behind. Lexie tries to talk to Meredith. Callie is overwhelmed by her new position while Bailey is searching for things to do.
Ep.3

Let the Truth Sting
Air Date: 2007-10-11
The doctors meet the world's oldest intern. Marcy brings in her son Henry because she finds his change in behavior suspicious. A patient named Connie may lose her vocal chords unless Mark and Richard can perform a radical new surgery. George impresses the other interns at work but at home he is trying to deal with his guilt about having sex with Izzie.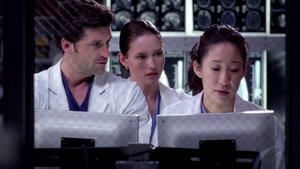 Ep.4

The Heart of the Matter
Air Date: 2007-10-18
A face familiar to one of the year-twos shows up and dredges up issues that were never really dealt with. A teen soccer player needs counseling because of his father and surgery for an injury he sustained while playing the game. Another patient's, named Courtney, finds out that her cancer is back.
Ep.5

Haunt You Every Day
Air Date: 2007-10-25
It's Halloween at Seattle Grace! There may be jokes, pranks, and/or scare tactics. Some of the women form a club based on an experience they all share. A man volunteers for what most of the doctors believe is an unnecessary surgery. One of the patients is in the hospital because they tried to carve a pumpkin in an unconventional manner.
Ep.6

Kung Fu Fighting
Air Date: 2007-11-01
A patient comes to the ER with a dream and a condition which may prevent him form realizing it. Two patients are competing to win something big. One of them convinces an intern to take their place.
Ep.7

Physical Attraction, Chemical Reaction
Air Date: 2007-11-08
Izzie and George's new-founded relationship results in them having bad sex. Callie's Chief Resident position is taken away from her, and Bailey is the humble replacement. Meredith can barely handle it with Lexie anymore.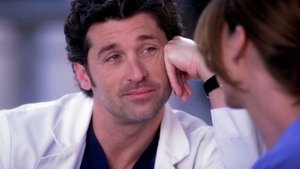 Ep.8

Forever Young
Air Date: 2007-11-15
There has been a bus crash and the patients are in the ER. Meredith and Derek's relationship gets more complicated when he dates a fellow doctor. Meredith's dad goes to visit her at the hospital.
Ep.9

Crash Into Me (1)
Air Date: 2007-11-22
An ambulance crash endangers the lives of the paramedics involved, as Meredith and the Chief work on-site to save them, Bailey treats a patient who refuses her help, and Ava returns for Alex and meets his other girlfriend in the process.
Ep.10

Crash Into Me (2)
Air Date: 2007-12-06
Meredith works furiously to save a paramedic trapped in an ambulance; Lexie holds the life of a patient in her hands; Derek must rely on a nurse to save a patient; Bailey struggles to balance her personal life with her work.
Ep.11

Lay Your Hands on Me
Air Date: 2008-01-10
George has a surprise visitor. Bailey's family is falling apart. Derek sorts through what kissing Rose means. Meredith discovers something that doesn't inspire hope or happiness in her. Alex treats a faith healer.
Ep.12

Where The Wild Things Are
Air Date: 2008-04-24
Time has passed but not much has changed. Sexual angst still runs rampant in the halls of Seattle Grace. Derek and Rose have been dating and Meredith has noticed the activities of her current off-again ex-boyfriend. The doctor's are in the midst of a competition.
Ep.13

Piece of My Heart
Air Date: 2008-05-01
Addison visits Seattle Grace because they need skills that only she has. Rebecca/Ava returns with news for Alex. Meredith and Derek's clinical trial experiences one or two developments.
Ep.14

The Becoming
Air Date: 2008-05-08
The clinical trial continues to make progress. The anti-McSteamy club creates new initiatives but that isn't enough to stop one woman from spending time with him. Christina is affected by Burke's career developments.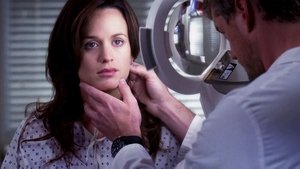 Ep.15

Losing My Mind
Air Date: 2008-05-15
Dr. Wyatt refuses to let Meredith give up on therapy. Alex learns something else about Rebecca. The Chief wants Erica to perform a daring surgery. Christina continues to act strange.
Ep.16

Freedom (1)
Air Date: 2008-05-22
A couple undergoes surgery. Derek and Meredith's clinical trial gets a second shot from a new patient. Izzie helps Alex. McSteamy hooks up with someone.
Ep.17

Freedom (2)
Air Date: 2008-05-22
A couple undergoes surgery. Derek and Meredith's clinical trial gets a second shot from a new patient. Izzie helps Alex. McSteamy hooks up with someone.