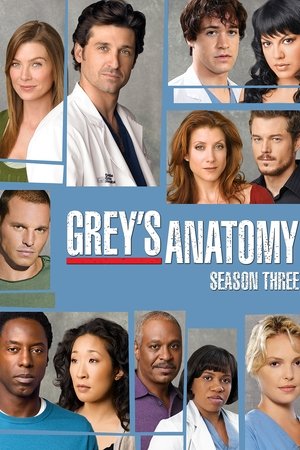 Season 3
(2006)
The third season of the American television medical drama Grey's Anatomy, commenced airing on the American Broadcasting Company on September 21, 2006, and concluded on May 17, 2007. The season was produced by Touchstone Television, in association with Shondaland Production Company and The Mark Gordon Company, the showrunner being Shonda Rhimes. Actors Ellen Pompeo, Sandra Oh, Katherine Heigl, Justin Chambers, and T.R. Knight reprised their roles as surgical interns Meredith Grey, Cristina Yang, Izzie Stevens, Alex Karev, and George O'Malley, respectively, continuing their expansive storylines as focal points throughout the season. Previous main cast members Chandra Wilson, James Pickens, Jr., Kate Walsh, Isaiah Washington, and Patrick Dempsey also returned, while previous guest stars Sara Ramirez and Eric Dane were promoted to series regulars, following the extension of their contracts. The season followed the continuation of the surgical residency of five young interns, as they experience the demands of the competitive field of medicine, which becomes defining in their personal evolution. Although set in fictional Seattle Grace Hospital, located in Seattle, Washington, filming primarily occurred in Los Angeles, California. Whereas the first season mainly focused on the impact the surgical field has on the main characters, and the second one provided a detailed perspective on the physicians' private lives, the third season deals with the tough challenges brought by the last phase of the surgeons' internship, combining the professional motif emphasized in the first season, with the complex personal background used in the second. Through the season, several new storylines are introduced, including the arrival of Dane's character, Dr. Mark Sloan, conceived and introduced as an antagonizing presence.
---
Episodes List
Ep.1

Time Has Come Today
Air Date: 2006-09-21
Meredith must make an important choice about which path she wants to follow to determine the future of her love life. While she considers her future she and others have flashbacks of their pasts. Cristina spends time with Burke while he recovers. Webber and Adele have a conversation after he spends the night at the hospital. Everyone attempts to deal with Izzie's choice to quit. George seeks relationship advice from Derek.
Ep.2

I Am a Tree
Air Date: 2006-09-28
Cristina meets Burke's parents, the interns try to get Izzie's job back, and Addison takes a day off, a surgical patient may be living her last day. Some of the interns want to know why Bailey won't talk to Izzie. Meredith tries to decide between Derek and Finn and comes to a decision somewhat. Webber finds out that Callie has been living in the hosiptal and he confronts her about it.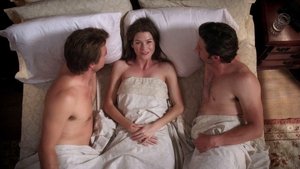 Ep.3

Sometimes a Fantasy
Air Date: 2006-10-05
The staff tries to prevent a patient from getting an elective surgery. Cristina tries to help Preston cope with the after effects of his surgery. A patient bails on their surgery. Someone goes to a bed-and breakfast. Alex deals with a patient who has had a high amount of injuries in the past. A man undergoes surgery. Before the surgery his wife was only somewhat supportive, but the results may be too much for her to handle. Izzie tries to go back to the hospital for the first time since Denny died. One child's constant visits are noted by a nurse. Two foster patients are met with suspicions of child abuse. George and Callie's relationship moves forward.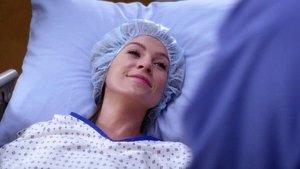 Ep.4

What I Am
Air Date: 2006-10-12
Shawn Sullivan, a car salesman who just had surgery, wants to get back to his routine so he doesn't lose his renown. Addison works with a pregnant woman named Rebecca who may need a C-section and Addison doubts her medical skills. Rebecca wants to have the baby naturally. Derek and Mark's opinions clash when the try to decide the course of treatment for a burn victim. Izzie gets surprised. Cristina pushes Burke to get better faster.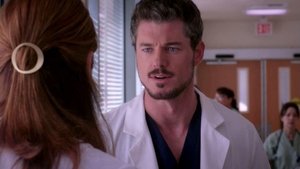 Ep.5

Oh, the Guilt
Air Date: 2006-10-19
Derek learns one of Addison's secrets. Bailey talks about motherhood and depression to a mother who is set to have cancer surgery and who seems to not care about any decisions concerning the future. A resident is fiercely questioned about the death of a male patient. An ex-couple meet before lunch and get stuck - Meredith and Addison work on their case. Things get awkward when the ex-couple's daughter, Michelle, arrives at the hospital.
Ep.6

Let the Angels Commit
Air Date: 2006-11-02
Cristina gets to scrub in on a rare surgery which incites envy. Alex questions his future in plastics. George and Addison work together with Noelle. Noelle is pregnant with twins but one of them is growing slower than the other. Her fiancé has problems of his own. Derek's sister visits. A patient's wife makes things hard on the staff since she has made her husband's health her job. A woman's sexual exploits are questioned.
Ep.7

Where the Boys Are
Air Date: 2006-11-09
The men of Seattle Grace go on a camping trip together, Addison and Callie must team up to work on a patient, Meredith assists Sloan with a procedure unlike any she has experienced, and, suspicious of her recent actions at the hospital, Bailey confronts Cristina. A 9-year-old is seen by Cristina after he swallowed Monopoly game pieces. A pregnant 25-year-old, is brought in after she slipped in the shower. She doesn't want medicine to take away the pain from her injury so not to put her baby's growth in jeopardy. Doctors take care of Daniel, a man who wants a sexual reassignment surgery and who now goes under the name Donna. Accompanying Daniel is his wife of the past 10 years, who was surprised to see him want that surgery but, after much struggling, decided to stay by his side.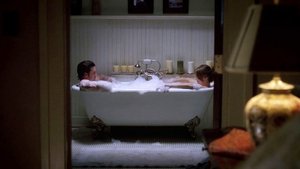 Ep.8

Staring at the Sun
Air Date: 2006-11-16
George's father has a serious heart problem that requires surgery and George chooses Burke to do the procedure. Burke doubts himself because he knows the pressure this kind of surgery will put on him, but Cristina believes the team can handle it. Derek works with Meredith on being a couple again and tries work with Addison on more civil terms. A patient has had mutiple plastic surgeries so that his girlfriend will like him more. A mom wants her daughter's babysitter fired, after she is brought in with multiple injuries, but the girl likes the babysitter more than her mother.
Ep.9

From a Whisper to a Scream
Air Date: 2006-11-23
A traumatic car accident fills the ER. Izzie pushes the boundaries of her probation. Cristina has a crisis of conscience about her deceptive teamwork with Burke.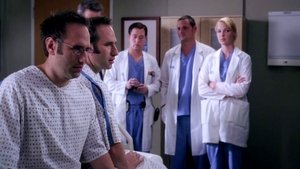 Ep.10

Don't Stand So Close to Me
Air Date: 2006-11-30
Recent events strain Burke and Cristina's relationship. Mark and Derek must work together when two close-knit brothers seek medical help. One of Meredith's half sisters is admitted to the hospital.
Ep.11

Six Days (1)
Air Date: 2007-01-11
Meredith discovers that Derek has a problem sleeping while her father comes to visit the hospital. George's father is moving from one surgery to another. A patient named Heather checks into the hospital. Heather is 17 and has a nasty attitude that results from her medical condition and all the surgeries it has required her to have. Izzie has an emotional breakdown when she tries to hand over something very important to her. George's family comes to visit to celebrate his father's surgery. Cristina and Burke are playing Uncle.
Ep.12

Six Days (2)
Air Date: 2007-01-18
Cristina and Burke continue to play Uncle until one of them gives in. Derek and Meredith are fighting over the reason for their sleepless nights. Meredith tries to talk to her father about his side of the story. There's tension between Alex and Addison. There is even more tension between Addison and Mark. Addison confides in Callie. Bailey wishes she didn't have to keep a secret from one of the interns. Callie rushes to be with George after she learns that his dad needs an emergency procedure. Izzie may have found 'some good to do' with her inheritance.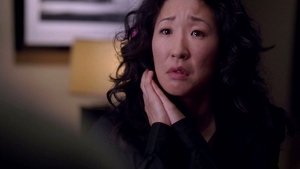 Ep.13

Great Expectations
Air Date: 2007-01-25
After the Chief announces his retirement, rumors begin to circulate on his departure and successor. Mark is determined to leave Seattle for good but Meredith accidentally has him stay after letting him know of the open Chief position. Derek is angry at Meredith for causing Mark to stay in Seattle, but soon realizes that she is not the reason he is really angry. The attending physicians at Seattle Grace Hospital fight to get Richard's attention, but he expresses his disappointment. He also displays his lack of support in Bailey's plan to create a free medical clinic, but she ultimately goes through with her plan when Izzie offers to spend her entire 8.7 million dollar inheritance on the project. George, devastated after his father's death, uses sex to overcome his grief, and eventually proposes to Callie. Cristina and Burke still don't speak to each other, but he breaks the agreement when he proposes to her. Richard endeavors to reunite with his wife, Adele, and decides to retire, only to come home and find his wife with another man.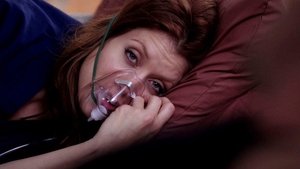 Ep.14

Wishin' and Hopin'
Air Date: 2007-02-01
The race for the Chief's position is on, and the attending physicians, Derek, Burke, Addison and Mark, compete for Richard's affections by trying to help out everywhere possible. The Denny Duquette Memorial Clinic is open for business, but only one single patient shows up. Izzie is disappointed in what she invested Denny's legacy in, and tries to steal patients from the emergency room. Callie and George get back from Las Vegas, announcing their marriage, much to everyone's disbelief. Izzie is not supportive of their marriage and tries to get George to realize the mistake he has made. Meanwhile, Meredith's Alzheimer's-stricken mother, Ellis Grey, experiences a change in her medical condition by becoming lucid for the day. She is disappointed in the mediocrity her daughter has fallen into and begins to despise Derek, blaming him for what happened to the Meredith that used to be "a force of nature". Ellis has to have heart surgery and, despite her wishes, Meredith schedules her upcoming surgery. Richard talks to Ellis and realizes that she is still in love with him, but loses her memory after their talk ends, before Meredith has the chance to tell her how she really feels.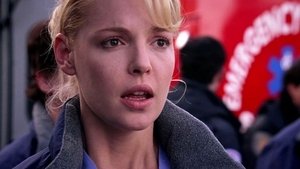 Ep.15

Walk on Water
Air Date: 2007-02-08
A mass trauma situation, which turns out to be a ferryboat accident, challenges the whole staff of Seattle Grace Hospital. Richard finds difficulty in coping with his separation from his wife and dyes his hair "for the ladies", which becomes an internal joke between Mark, Burke and Derek. Cristina tries to tell Meredith about her upcoming marriage, but doesn't have the strength to. George promises to find a woman's son, who has been separated from her at the accident. The woman refuses to go into surgery until she is assured that her son is alive. Izzie has to take care of a man who got stuck between two cars on the ferry, but nobody helps her due to the large number of injured people. Alex rescues a pregnant woman with severe wounds on her face, and promises to take care of her. Meredith looks after a girl who has been separated from her mother after the accident, but accidentally falls into the water and drowns, with nobody but the little girl as a witness.
Ep.16

Drowning on Dry Land
Air Date: 2007-02-15
Meredith is still underwater, but nobody seems to notice. Her worsening condition makes her rescuing an urgent matter. Derek finds her coat on a man she had helped, and starts looking for her and, much to his shock, the little girl Meredith took care of suggests that she is in the water. Derek saves her, but she is almost dead, due to hypothermia. Izzie has to perform brain surgery on a man stuck between cars, as he begins to experience seizures. She drills holes into his head, perforates his skull and ultimately saves his life before he is rescued and transferred to Seattle Grace Hospital. George lies to the woman whose son he had been looking for, in order to get to surgery, but still doesn't have any luck in locating him. Alex finds no hope in searching for the pregnant Jane Doe's family as she undergoes surgery. The interns find out about Meredith's situation and express their hopelessness. She wakes up in what appears to be limbo and meets her deceased acquaintances.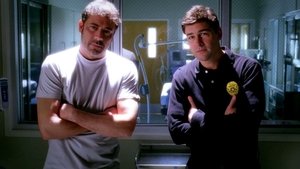 Ep.17

Some Kind of Miracle
Air Date: 2007-02-22
Everyone is pushing for Meredith to survive, or in this case to be revived. People are still dealing with the fallout from the ferry disaster. A young man named Lucas is having problems with brain-mouth coordination. Someone else dies.
Ep.18

Scars and Souvenirs
Air Date: 2007-03-15
The race between the attending physicians for the Chief of Surgery position heats up after a new competitor enters the fray. They soon realize that the new surgeon, Colin Marlow, was Cristina's professor in medical school and they used to have a long-term relationship. He begins to lie to Burke in order to protect her secret, but is soon faced with the realization that their relationship is on the rocks. George finds out that Callie's family is rich, but she had previously hidden the fact in order to find out whether George loves her for who she really is. Derek treats his former colleague from New York, and forces her to have surgery for brain cancer in order to save her future, no matter what the post-surgery risks are. Alex continues to work with Jane Doe, whose memory doesn't seem to come back. He moves in with Meredith and they have a dinner with her father and stepmother. She seems to connect with Susan, but her relationship with Thatcher seems to be irreparable. Izzie wakes up, realizing that she has slept with George while they were both drunk.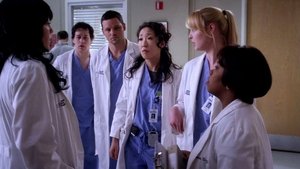 Ep.19

My Favorite Mistake
Air Date: 2007-03-15
In the aftermath of Izzie's affair with George, he doesn't seem to remember anything. Callie lets him know that they will be having dinner with her father, but George does not make a good impression, being hung over after last night's events. Alex helps Jane Doe choose how her face will look like after Mark Sloan performs reconstructive surgery on her. He also gives her a new perspective on how the world will see her from then on. The hospital board begins interviewing the candidates for the Chief's position, and Colin Marlow intimidates everyone with his ten-year plan. However, after taking advice from Bailey, Mark seems to have convinced the board that he is appropriate for the job, despite continuous efforts from Derek, Burke and Addison, whose careers in the hospital outlast his. Izzie seeks advice from Addison about her affair, telling her sleeping with George felt right, despite him being married. Mark takes Meredith as his intern for the day in order to impress the Chief, something that Derek doesn't approve of, feeling that Mark has become manipulative.
Ep.20

Time After Time
Air Date: 2007-04-19
Colin Marlow continues to try to get in the way of Cristina and Burke's relationship. The daughter that Izzie gave up for adoption needs something from her. This episode features a pro chess player, a flirtatious woman, and a mother named Mrs. Malone. Mr. and Mrs. Malone haven't talked to their daugther in a while because of their son-in-law. Someone goes to see a priest.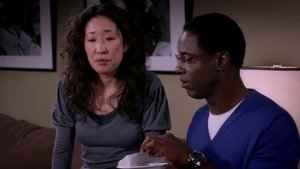 Ep.21

Desire
Air Date: 2007-04-26
The attendings vie to be Chief. Two people who haven't slept together before, will. McSteamy's 60-day vow of chastity has a conclusion. We meet a boss, his assistant, and his wife. We also get to see someone being treated in the clinic. Derek has more questions about his relationship with Meredith. The chairman of the hospital board is admitted as patient. Callie confronts Izzie about her relationship with George.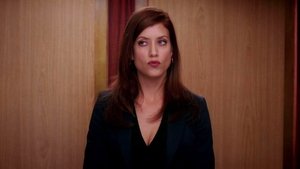 Ep.22

The Other Side of This Life (1)
Air Date: 2007-05-03
Meredith works on her relationship with Susan and Thatcher. Cristina has to deal with her mother and Burke's. Alex continues to tend to Jane Doe/Ava. Meredith and Derek's relationship has a problem that needs resolution quick. Addison sees her god-daughter which leads to a job offer outside of Seattle. Derek has to perform surgery. Burke has a reservation about marrying Cristina. Many new people guest star in the course of Addison's road trip to California. Addison considers moving to be closer to her old med school friends until she discovers that drama she wishes to leave behind isn't exclusive to Seattle. Her friends who she thought had it all, are divorced. A pregnant woman must discover who the father of her child is.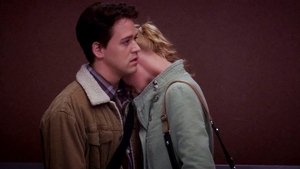 Ep.23

The Other Side of This Life (2)
Air Date: 2007-05-03
Meredith works on her relationship with Susan and Thatcher. Cristina has to deal with her mother and Burke's. Alex continues to tend to Jane Doe/Ava. Meredith and Derek's relationship has a problem that needs resolution quick. Addison sees her god-daughter which leads to a job offer outside of Seattle. Derek has to perform surgery. Burke has a reservation about marrying Cristina. Many new people guest star in the course of Addison's road trip to California. Addison considers moving to be closer to her old med school friends until she discovers that drama she wishes to leave behind isn't exclusive to Seattle. Her friends who she thought had it all, are divorced. A pregnant woman must discover who the father of her child is.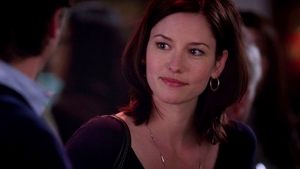 Ep.24

Testing 1-2-3
Air Date: 2007-05-10
The interns finally take their first year medical exams, the biggest test of their careers, and one of them is ill-prepared. Callie grows more suspicious of George and Izzie. The doctors treat a patient named Dale. Three mountain climbers are treated. Cristina works on her vows. Adele wants Addison to keep a secret from Richard.
Ep.25

Didn't We Almost Have It All?
Air Date: 2007-05-17
The mountain climbers lie about the axe in their friend's head, telling Derek that it accidentally got there. During surgery, he and George discover that it was deliberately put there, and one of the climbers admit that he was trying to "put him out of his misery". Adele is saved after Richard finds her lying in the bathroom and is stabilized, but soon suffers a miscarriage. Richard learns Adele was actually pregnant with his son, not someone she had one night stand with. Bailey is disappointed to see that Callie is the new Chief Resident and begins to question her abilities as a surgeon. Richard chooses Derek as Chief of Surgery, but he refuses, telling him that he isn't done doing what he does best. Cristina and Burke's wedding day arrives, but Cristina won't stay out of the hospital. However, Cristina's nervousness results in Burke's realizing that he does not love the real Cristina and leaves her. Meredith and Derek are uncertain about their future and despite Derek admitting that she is the love of his life, they call their relationship over.