Series 3
(2016)
Not many series can return for a third run and claim they have footage of five comedians making out-of-season snowmen, spreading their clothes as far and as wide as possible and whispering questions at an 83-year-old called Hugh in the hope of winning a golden version of Greg Davies's head. Taskmaster can.
---
Episodes List
Ep.1

Pea in a Haystack
Air Date: 2016-10-04
Greg Davies sets bewilderingly brilliant tasks - involving vegetable propulsion, snowmen and Swedes - to five celebs, including Al Murray and Dave Gorman.
Ep.2

The Dong and the Gong
Air Date: 2016-10-11
Greg Davies thinks outside the box - or inside a cement-filled shoebox in Rob Beckett's case - as he sets nutty tasks. Dave Gorman gets all bitey!
Ep.3

Little Polythene Grief Cave
Air Date: 2016-10-18
Sadistic Mr Gilbert in the Inbetweeners, Greg Davies takes just as much pleasure from torturing celebs. Al Murray is confronted with an eggcup!
Ep.4

A Very Nuanced Character
Air Date: 2016-10-25
Greg Davies dishes out surreal tasks to celebs. The comics have to hand an item of clothing to a cyclist and grill an 83-year-old man called Hugh!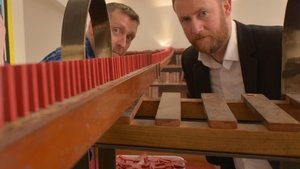 Ep.5

The F.I.P.
Air Date: 2016-11-01
Exasperated comics are set absurd tasks! Before the series winner is crowned, we find out which celeb has the dishiest relative and why Rob Beckett is mad at peas.